Brand Development Path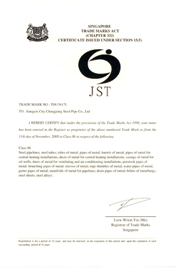 JST always adheres to the principle of winning the market by quality. Over the years, we insist on manufacturing and supplying seamless steel tubes according to the enterprise standards that are higher than the national and international standards. JST implements consistent quality management and regards customer satisfaction as the goal. We establish and perfect our quality management system according to the ISO9001:2008.
Since its establishment, JST has been devoted to its brand image building and promotion. Our sales gross tonnage has reached 1.2 million tons since we conducted export sales. Additionally, we have achieved a high standard of zero customer complaints.
JST is a high grade seamless steel pipe manufacturer, with the annual production gross tonnage of 280,000 tons. JST specializes in manufacturing high-grade steel and high additional value seamless steel tubes.
Certification and accreditation as the international trade facilitation tool has a positive effect on improving quality management level and promoting the development of world trade and economy. At present, the steel industry has entered into the low profit era. JST enhances the differentiating capability and maintains the optional operating performance based on the continuous improvement of management system. JST has continuously passed through quality, occupational health and safety and environmental management system certificates, which keep improvement of our company's management system.
In order to conform to the requirements of foreign trade brand promotion, we name our seamless steel tube brand as "JST", "Jiangyin Changjiang Steel Tube Making Factory" in short, or called "Changjiang Tube Making".
Our company registers our brand in United Arab Emirates, the United States, Singapore and other countries, as the basis for the promotion of seamless steel tubes at abroad, which makes JST brand gradually walked on the road of international brands.
JST has formulated its goals for the next few years. JST will continuously persist in the principle of winning by quality and will continue to optimize the internal quality management system. Regarding zero customer complaints as the goal, JST will constantly develop the international customers, so that the annual export tonnage of seamless steel pipes can grow continuously.